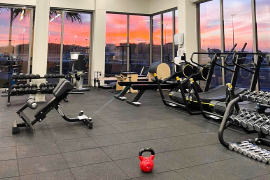 A daily workout these days has become as important as daily bread. With growing awareness of the immense benefits of an exercise regime, people are taking to gyms and fitness clubs with a vengeance. It's no secret that workouts are your immunity elixir, the only way to stay sane in a high stress, high-burnout life. They keep your heart healthy and brain firing and they bring a sense of equilibrium and calm, not to mention energy and bone health!
Make an impact
However safety is of utmost importance when working out as you don't want your 1 hour workout to be followed by 6 months of physio!
When rounding up all the fitness essentials, the surface you workout on is probably the most important thing to keep you safe.
If you are own a gym or training center, you would need to keep this in mind as you do not want injuries or injury related lawsuits on your hands
Minimize The Chance of Accidents and Injuries
Statistics indicate that about 295,000 Americans go to the emergency room each year as a direct result of recreational exercise injuries.
Commercial gym mats are highly absorbent, anti slip and fall resistant. This makes them a great workout surfacing option as they prevent injuries resulting from wet floors where people have been sweating, or dripping from a shower or even drinking water.
Heavyweight protection
Gym tiles not only protect users, they also protect the flooring from being damaged by heavy fitness equipment like treadmills, elliptical machines, workout stations, bikes and even kettles and dumbells. This equipment can typically scratch dent or even crack ordinary floors, and hence gym mats are a highly resilient option.
How to choose what works for you
Based on the frequency and intensity of your training, there are many options of rubber tiles and mats available.
For ex gentle exercises like yoga or pilates will need a soft rubber tile with a thickness of 15 to 20mm.
If you are a hard core trainer pumping iron, doing heavy weights and plyometric movements, you should opt for a high density shock absorption tile.
Increased density tiles are ideal for workouts like Crossfit as they cushion your joints and insulate the noise and vibration caused by weights dropping.
Floors that floor
Not only do rubber tiles and flooring provide a high level of safety, they are good looking and inviting too!
Colourful and pliable, they can shape up just as you want them to and prove to be your best fitness partners.